To thank you for travelling with PONANT, we offer several benefits you can take advantage of when booking your cruise with us.
Celebrating a wedding anniversary or on your honeymoon, wanting to extend your cruise into a grand voyage, travelling solo or with family or friends or recommending PONANT to fellow cruisers? We have the perfect offer for you!
PONANT Yacht Club
When you book your second cruise you will become part a member of the PONANT Yacht Club and you will enjoy personalised attention, exclusive offers both onboard and on land, and the best dedicated offers.
Discover
PONANT Bonus
Book your cruise early, as soon as sales open, and benefit from special promotional rates.
More details
Referrals Program
Do you enjoy travelling with PONANT? Refer your friends and family members and you and your referees will benefit from an €500 discount per stateroom.
View details
Discounts & special offers
Whether it's your honeymoon or wedding anniversary, travelling solo, as a family or with friends, you can benefit from our special offers. Feeling adventurous? Book back-to-back cruises and benefit from discounted rates.
More details
Before and after the cruise
As your trip starts well before your cruise, we'll assist you right from booking your reservation. Our teams are at your service to personalise your stay or reserve your before and after cruise programmes.
More details
Refer us to your friends and family
Have you enjoyed travelling with PONANT? Introduce PONANT to your family and friends and take advantage of our Referral Program
As a REFERRER, you receive a discount* of
€500/per stateroom
after your referee has booked their first voyage
The number of referrals is unlimited. Referral savings amounts can be accumulated.
Your REFEREE will enjoy a discount* of
€500/per stateroom
on their first voyage
---
TERMS & CONDITIONS OF OFFER
✓ €500 discount per stateroom on your next cruise when the person you refer (referee) has deposited on their first cruise. Offer is valid for use when booking through your travel agent.
✓ €500 discount for the referee on their first cruise. Offer is valid for use when booking through your travel agent.
✓The referrer must have already sailed on a PONANT ship.
✓The person being referred cannot have previously sailed on a PONANT ship.
✓The referrer and person referred cannot be a current or a former employee of PONANT or a travel agency.
✓A referrer can refer any number of people, but only one per household, and the person referring and the person referred should not be part of the same household.
✓The referral request will be rejected if the person referred or any member of their household has already been referred.
✓The referred person's discount applies immediately and is limited to one use per stateroom and per referred customer.
✓The referrer's discount must be used all at once and applied to one cruise. Referral discounts can be accumulated and added to a referrer's booking up until final payment of their next cruise.
✓Savings for the referrer and the person(s) referred cannot be taken as a payment or cash refund.
✓
The referrer should give their PONANT Yacht Club number to the person(s) they wish to refer for identification purposes. In the absence of precise enough identification, the Referral Program cannot proceed.
✓The referrer and the person they refer may not share the same stateroom; neither can two people referred.
✓If the person referred cancels their booking, your refer discount will no longer apply but you can use the offer again whenever the person you referred makes a new booking.
✓The discount for the referrer is combinable with other selected offers. However, the discount provided to the person being referred is not combinable with any other discount described above except the PONANT BONUS and Consecutive Cruises discounts.
✓Travel Agents are not eligible for the Referral Program.
✓Referral Program discounts cannot be applied to group or charter bookings.
Under the Data Protection Act you have the right to access and correct information that concerns you by writing to PONANT.
Discounts and special offers
Travel can be shared or enjoyed on its own. It is the opportunity to create a bond, make friends or to discover the world and, through it, discover yourself and others. It brings people together no matter what their age. While travel shapes young people, it also sustains the inner flame of seasoned adventurers. We have therefore come up with a range of discounts and special offers so that you can go on the cruise you have been dreaming of.
Honeymoon Offer
If you go on a cruise in the 12 months after your wedding or civil partnership celebration, you can enjoy the following benefits (except on Le Paul Gauguin):

5% off the port-port cruise price only, excluding port and security taxes*
Bottle of champagne on arrival
A photography session and your 5 favourite photos for free (except on board Le Ponant)
2 spa treatments (maximum value: €120 per treatment - except on board Le Ponant)
Onboard surprises
On Le Paul Gauguin, you can enjoy a traditional Polynesian blessing, as well as a bottle of champagne in your stateroom.

* Offer valid on presentation of proof of eligibility. Offer is not combinable with any other discount.
Wedding Anniversary Offer*
If you are celebrating any multiple of five years of marriage or civil union, enjoy an €200 discount per stateroom or suite for a cruise taken during the calendar year of your anniversary.
* Offer valid on presentation of proof. Discount applies only once per year of anniversary. Offer is not combinable with any other discount.
Single Traveller Offer
We would like to give our guests who travel alone the opportunity to enjoy an intimate experience aboard our ships. You can benefit from special fares on a selection of exceptional cruise itineraries and departure dates thanks to the Single Traveller Offer.
Discover
* The Single Traveller Offer depends on the type of staterooms and the availability at the time of booking. The cruises for which the offer is valid are subject to change.
Family and Friends Offer*
Because you often want to share your cruise with your family or friends, we have a special offer for you. From the fifth person onwards on the same booking with one payer, the whole booking will benefit from a 5% discount* on the port to port cruise price only, excluding port and security taxes.
And because your little ones are often great explorers too, children can now board the company's ships from the age of 12 months on Yachting cruises and from the age of 6 years on Expedition cruises (8 years on Le Commandant Charcot cruises). Children and teenagers aged 12 months to 17 years sharing their stateroom or suite with one or two adults receive special discounts. Please contact us for more information.
*All passengers must be on the same booking number to qualify for the discount.
Consecutive Cruises Offers
Take advantage of our special consecutive cruises offers 1:
On all cruises: 10% discount on any combined cruises
On a particular selection of cruises 2:

20% off the 2nd consecutive cruise
30% off the 3rd consecutive cruise
40% off the 4th consecutive cruise, etc.
Discover
1 Discount does not apply to the first cruise and relates to the port/port fare not including port taxes. The two above offers cannot be combined.
2 Please consult the list of cruises benefitting from this offer here.
Owner's Suite
All Owner's Suite bookings include the following benefits:
A one-hour spa treatments per person in the well-being space, chosen from the facial and body treatments on offer 1
One private transfer (round trip): Airport - Hotel - Port 2
1 Does not include additional purchases, limited to two free treatments per booking, non-refundable, non-transferable and not valid during an Ocean Voyage.
2 Unless the transfer is already included in your package - Limited to one round trip per booking.
The offers described above cannot be combined (except the Single Traveller Offer, Consecutive Cruises Offer and Owner's Suite Offer). If you qualify for several discounts, the amount for the second discount is calculated using the price obtained after taking off the first discount, and so on. For more information about your benefits, please refer to our General Terms and Conditions of Sale or contact your travel agent.
PONANT Yacht Club
Being loyal to PONANT lets you take full advantage of the pleasures of cruising. As members of the PONANT Yacht Club, you will receive personalised attention, exclusive services both on board and on land, and offers not available to other guests.


Major
After you confirm your 2

nd

cruise


Admiral
After you confirm your 4

th

cruise


Grand Admiral
After you confirm your 7

th

cruise


Commodore
After you confirm your 20

th

cruise
(1)Discount on your future bookings
(2)Discount for onboard expenses, except for excursions
(4)Complimentary onboard laundry service
The opportunity to join the PONANT Yacht Club's Loyalty cruises
Change your choice of cruise without incurring charges
What discounts will be applied on your future bookings?

Have you lost your PONANT Yacht Club card?
You can make a request directly via our website by filling in the form on the Contact page and telling us that you have lost your card. We will send you your new PONANT Yacht Club card as soon as possible.
---
Terms & Conditions
The PONANT Yacht Club card is presented to each adult guest aged over 18 and eligible for the PONANT Yacht Club programme. The benefits and status are acquired upon confirmation of the reservation, unless it is cancelled prior to departure, and may be modified without notice. Free-of-charge or cancelled cruises – regardless of the reason for the cancellation – and cruises booked as part of a Group reservation (through a group travel agency) or a ship Charter, are not taken into consideration when calculating loyalty status. Benefits and status are available as soon as an individual booking is confirmed.

(1)The discount on your future bookings applies to port-to-port prices, and excludes taxes, discretionary expenses and transfers. This discount can only be combined with the PONANT Bonus discount, the discount applied to onboard cruise sales, the Referral Program offer, the Single Traveller offer and with the consecutive cruises discount.
(2)The discount for onboard expenses, except for excursions, applies to everything other than 'Prestige' brands in the Boutique, jewelry, watches and black pearl products, tobacco and the exceptional wines and high standard spirits. The complete list of these products is available at reception during the cruise. Aboard the Paul Gauguin, SCUBA diving, jewelry from the Boutique, Deep Nature Spa, Melanie Shook DUPREE art sales, Dance group "O TAHITI E" & Guest Entertainers CD's & DVD 's are all excluded from the discount for onboard expenses.
(3)Onboard credit is non-exchangeable, non-refundable and non-transferable. It is valid for all expenses on board (excursions included, except on board Le Paul Gauguin), once all eligible discounts have been applied. Onboard credit can be used on Le Paul Gauguin and will be offered in the following equivalent US dollar amounts: $50 for MAJOR / $100 for ADMIRAL / $150 for GRAND ADMIRAL / $200 for COMMODORE. Not valid on pre-bookable and pre-payable tours, excursions or cruise programmes or for gratuities.
(4)Laundry service is free on board, within the limit of 5 items per day and per person.
(5)Complimentary upgrades offered on board, to a superior cabin category or to the same category on a superior deck, are based on availability, offered within a maximum of 48 hours after boarding and only for PONANT cruises.
(6)You may change your cruise free of charge the first time you change your cruise package, provided that the request is made 90 days or more before the cruise's departure date (and 150 days or more for Expedition Cruises). The new departure date must be within 12 months of the original planned departure. Only one change can be made free of charge per calendar year per person for GRAND ADMIRAL and COMMODORE status, regardless of the cruise in question, and can only be applied to the first change only.
(7)Dedicated phone line is only available for French-speaking COMMODORE, as well as Australian and New Zealand GRAND ADMIRAL and COMMODORE and only for PONANT cruises.
(8)Priority boarding is subject to availability and only applies to certain ports of embarkation and only for PONANT cruises.

Discount and amenities above are not combinable with any other PAUL GAUGUIN offer, unless otherwise stated.
PONANT BONUS
A cruise is a holiday one prepares in advance. Our promise is to guarantee you the best fares as early as possible so that you can make those preparations in the utmost comfort.

It is why we introduced the PONANT Bonus, a promotional fare with savings up to 30% off the cruise price*. Depending on the cruise availability, the fare is liable to increase. Therefore, we encourage you to book your cruise as soon as sales open on your chosen cruise to enjoy the best fares.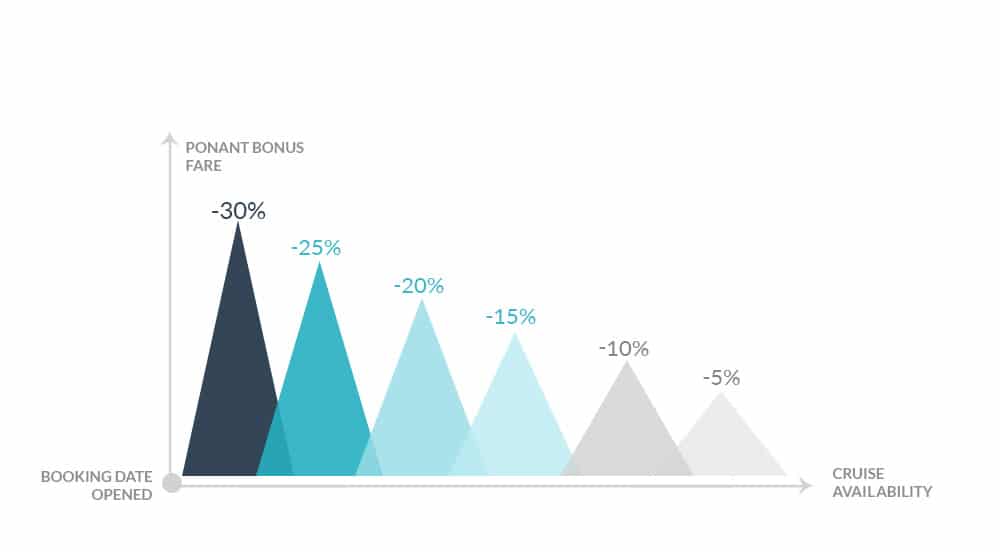 Don't wait, book now to enjoy the best cruise price!
Discover our cruises
* The PONANT BONUS price is yield managed so subject to availability and can change without prior notice. The PONANT BONUS also applies on Paul Gauguin Cruises.