Embarking with us soon?
Thanks to our special App, PONANT can now provide you with continuing help and support with your initial voyage preparations and throughout your stay onboard.
Get access to our new services and a range of information that will help to make your cruise easier.
Before

your voyage
Plan and prepare your cruise with complete peace of mind.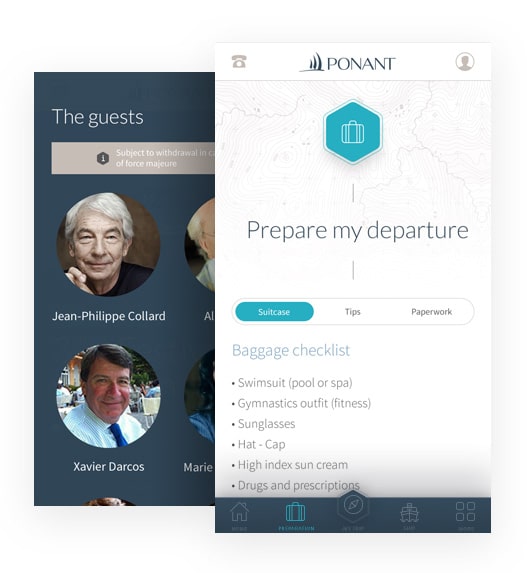 ✓ Receive notifications about advance bookings for both your pre- and post-cruise programme and your excursions.
✓ Discover in advance which Captain and crew you'll be sailing with during your stay onboard.
✓ Track the position of the ship you're due to embark on in real time.
✓ Access your luggage checklist, advice from our experts about suitable clothing for your destination, and details of the formalities to be completed before your departure.
✓ View the different stages of your voyage and detailed information about your cabin's facilities and amenities.
During

your voyage
Once onboard, the PONANT App makes everything easier for you.
✓ View the main events and highlights of your cruise day-by-day and check your cruise diary.
✓ Book excursions.
✓ Restaurants, bars, wines and spa: discover the different menus of the services offered on board your ship.
✓ Order your breakfast or meal in the cabin with room service.
✓ Check out the best photos of your cruise, on your mobile and from wherever you like.
✓ Conference programmes, spa relaxation sessions, etc. All your important events and activities onboard are recorded in the App.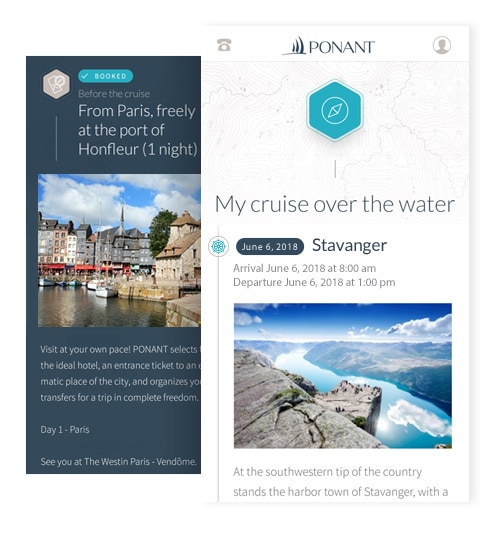 Do
even more...

The ship and the crew
Fully familiarise yourself with the services and facilities onboard your yacht. Get to know your Captain, expedition leaders and excursion managers.

Partner organisations and special guests
Whether embarking onboard an expedition cruise or a themed cruise, access introductory information about our prestigious partner organisations and the special guests we have onboard.

The right words
To head off to sea is to confront nature in its rawest form, to sail into the unknown. A range of sailing terms and a glossary of winds and tides are provided to help guide you throughout your adventure with PONANT.