Explore the South Pacific islands aboard the Paul Gauguin and enjoy the intimate atmosphere of a ship with only 165 staterooms and suites, combining attentive service, gourmet cuisine and a warm atmosphere for a relaxed holiday.
The ship's new interior designed by Studio Jean-Philippe Nuel and its recent fittings evoke South Seas elegance: precious woodwork in warm tones, lagoon shades, a wide range of greens and natural tones, plant motifs, woven textiles, panoramic views of tropical landscapes, traditional works of art and a virtual museum featuring over 150 paintings by the artist Paul Gauguin.
On board, the Gauguins, Tahitian hostesses and hosts share with you the art of living and Polynesian culture during shows, workshops and demonstrations.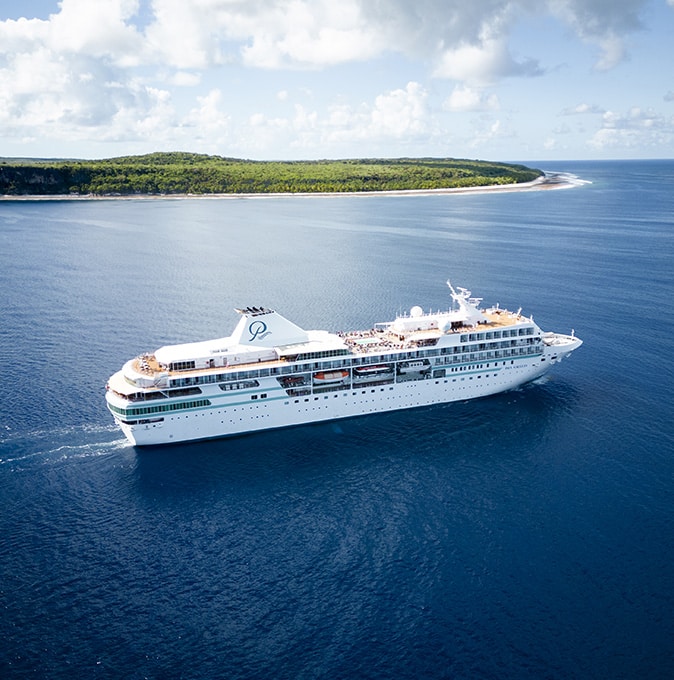 manageably-sized
ship
The m/s Paul Gauguin is a manageably-sized ship with a shallow draught. She has just 165 cabins and suites with sea views, and takes her passengers to lesser-visited areas inaccessible to the giants of the sea.
Onboard, the spaces are designed to create the feeling of being one with the natural surroundings, and the understated elegance of the decoration brings a warm atmosphere to the shared common areas.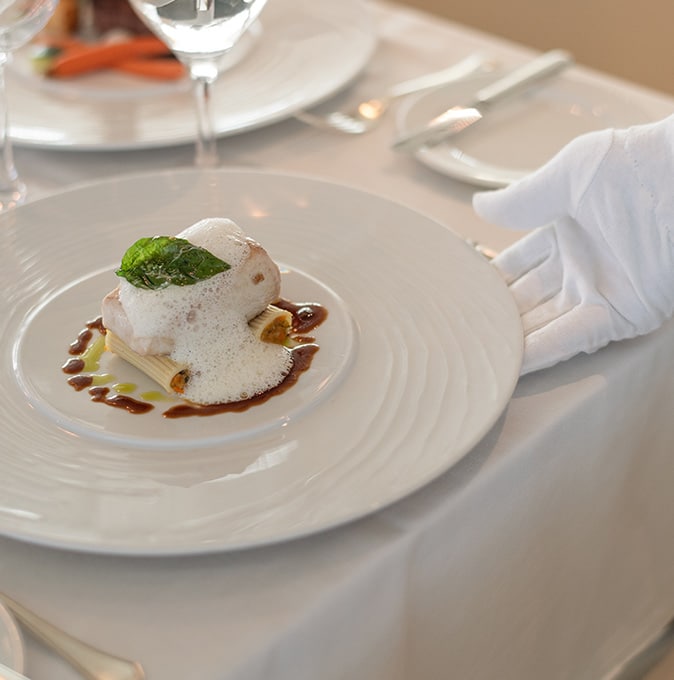 Gastronomy
Every day the Chef creates high-quality dishes, putting together menus worthy of the grandest establishments. Thrill your taste buds with the blend of French tradition and typical French flavours.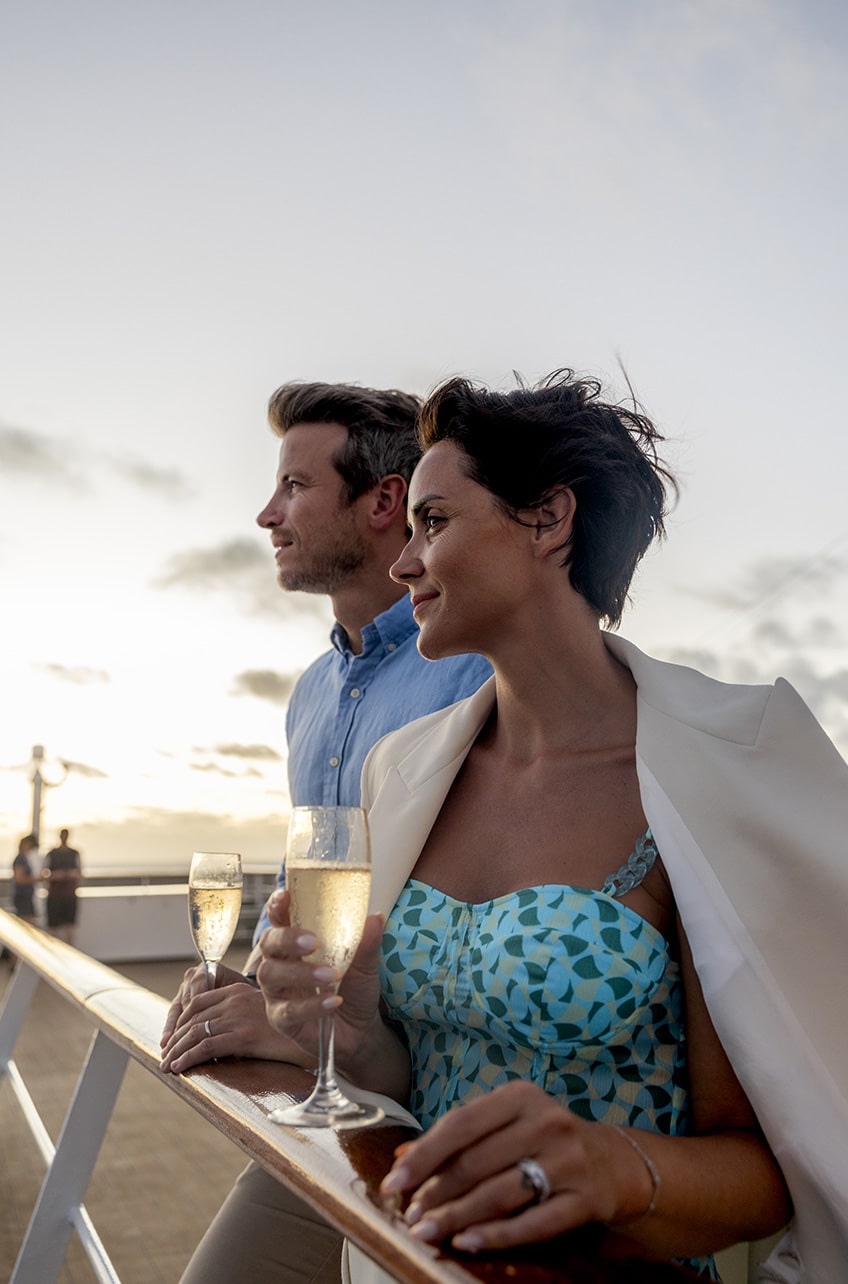 Service
on board
Among our top priorities is the quality of service. Consisting of 217 crew members, our ship staff are attentive and unobtrusive, there to help with anything you need.*
A butler is available to passengers in category B suites and higher to add that premium touch to your stay. There is no additional charge for in-cabin service which is available 24 hours a day, including for the menus of the restaurant L'Étoile.
We also provide a laundry and dry-cleaning service onboard so you can start each day afresh (extra charge may apply).
An information desk (deck 4) is open day and night for any queries you might have.
Free Wi-Fi internet access is available in both the cabins and the communal areas**.
* This represents one crew member for every 1.5 passengers: one of the most favourable ratios among all the luxury ships presently on the market.
**Please note that the Wi-Fi connection may be discontinued depending on the navigation area and landscapes that may block the vessel from satellite coverage or for technical reasons beyond our control.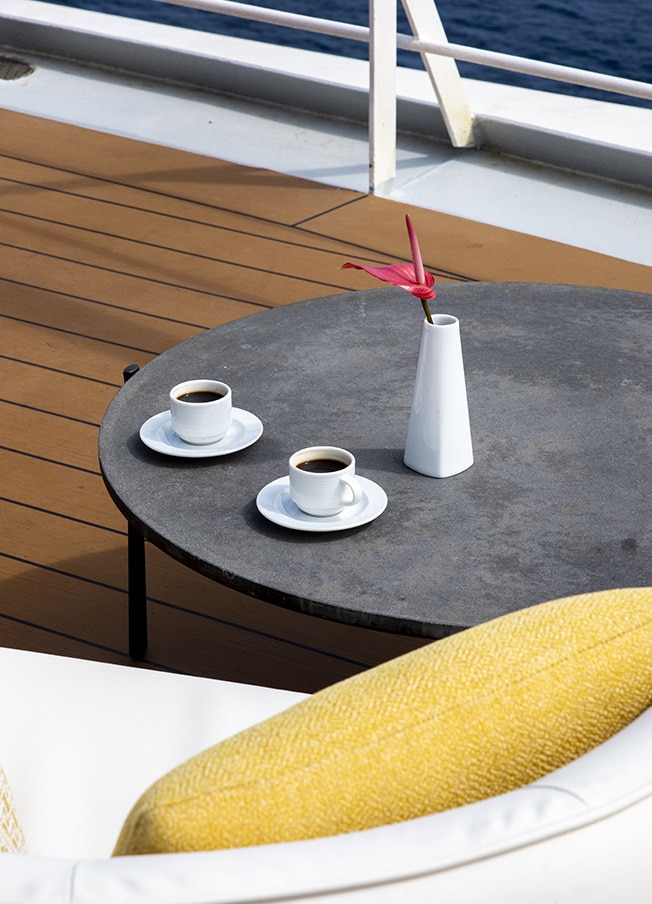 Shared space


NB: By special request, we are happy to prepare delicious vegetarian dishes and/or low-carb dishes. In-cabin service is available 24 hours a day at no extra cost.
Carefully selected wines are offered in generous amounts during your meal to perfectly complement your dishes.
The m/s Paul Gauguin offers an expert blend of luxury and relaxation, where the dress code remains 'smart casual' (jeans and shorts are not allowed for dinner).
A few of the activities
on board




Relax at the library onboard (most books are in English) including a huge selection of movies from all genres and in many languages.
Themed conferences in French and English regularly take place, if not daily, in the very in the very comfortable Grand Salon for your enjoyment.
The Fare Tahiti is a small on-board museum that is a testament to Paul Gauguin Cruises' attachment to Polynesian culture and history.