China - Unmissable experiences
17.5 times larger than France, China cannot be explored in a single visit. However, a cruise along the Chinese coast is one of the best ways to discover the country's unique history and culture.
Read more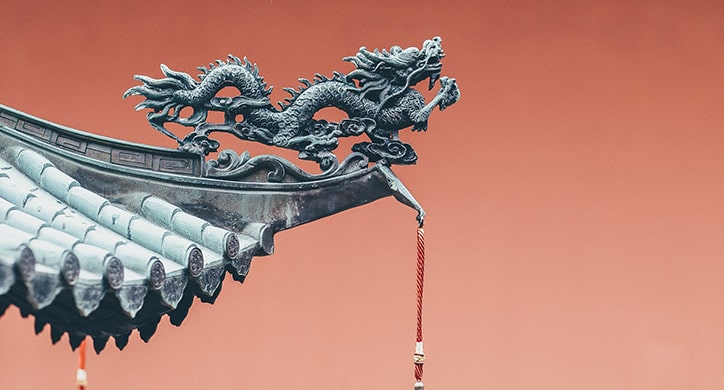 China - Essential guide
This practical guide is designed to help visitors to China learn some interesting information about their destination and avoid any faux pas.
Read more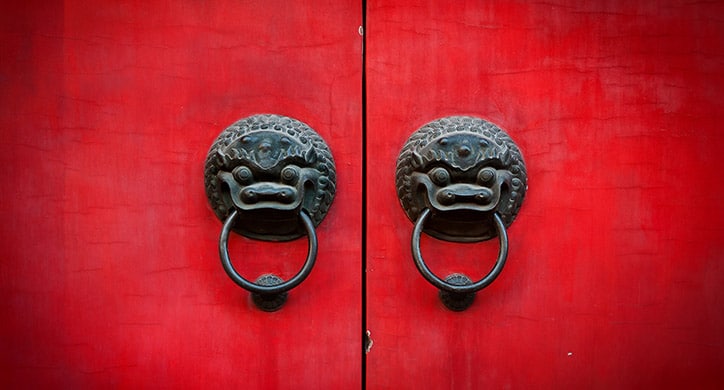 China - Unmissable experiences
17.5 times larger than France, China cannot be explored in a single visit. However, a cruise along the Chinese coast is one of the best ways to discover the country's unique history and culture.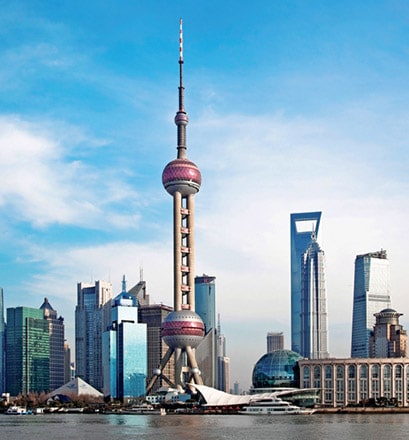 Visit Shanghai, the city with two faces
It is hard to believe that Shanghai started life as a simple fishing village. Today, it is a global financial hub and the most populous city in China, with 24.15 million inhabitants. The futuristic urban landscape of Shanghai is scattered with ancient monuments. These landmarks are especially concentrated along the Bund, which is known for its sumptuous colonial buildings. Additionally, the Shanghai Museum is home to many pieces dating back over 3,500 years, while the Jade Buddha Temple houses several unique statues carved from a single piece of white jade. To explore the modern side of Shanghai, head to the Pudong district, where you can marvel at the futuristic skyscrapers, climb to the top of the Jin Mao Tower to enjoy panoramic views of the city, and then hop on the Maglev train, which can reach 430 km/h in a matter of seconds.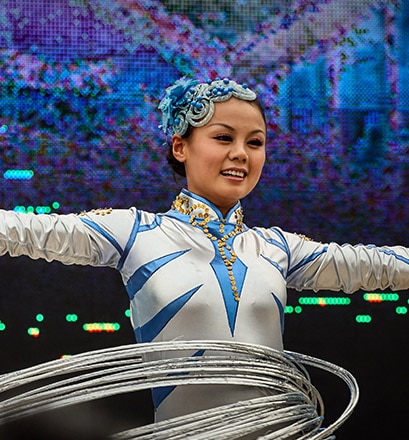 Attend a Chinese acrobatics show
Although Chinese acrobatics have a history stretching back hundreds of years, these performances were not actually recognised as an art form until the 14th century, when artists were able to perform on stage. Now a prominent part of Chinese culture, its popular roots are reflected in the use of everyday objects, including plates, parasols and fans. Chinese acrobats are recognised around the world for their impressive performances, which require a high level of self-control, flexibility and discipline.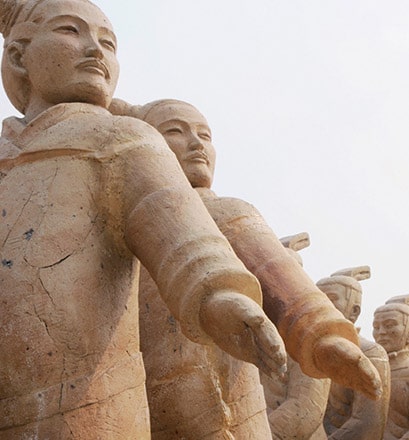 Meet the Terracotta Army of Xi'an
Xi'an is one of the oldest cities in China, founded over 3,100 years ago. It is also one of the Four Great Ancient Capitals, playing a major role under several dynasties. Today, the city's main attraction is the museum housing over 7,000 life-size terracotta statues of soldiers. They are arranged in order of battle, according to their rank, on foot, in chariots or on horseback, armed with spears or crossbows. A testament to the skill of their craftsmen, each soldier was created with unique facial features, earning the army the nickname of the "8th wonder of the world" when it was discovered in 1974.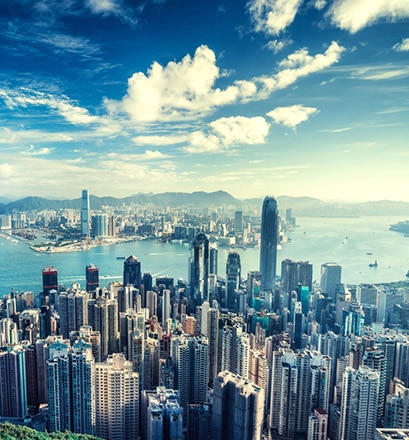 Dive into the hustle and bustle of Hong Kong
Hong Kong moves to a rhythm all its own. Looking for an oasis of calm? Head to the Man Mo Temple, dedicated to the gods of literature and martial arts, the Tang Chung Ling Ancestral Hall or the walled village of Lo Wai, which are all listed as Declared Monuments. In search of a more lively atmosphere? Check out the Hong Kong markets, where you can explore street after street of birds, flowers, fish and jade objects. To see the city from above, take the tram to the summit of Victoria Peak. Reaching a maximum height of 552 metres, this hill offers breathtaking views of the megalopolis and its skyscrapers.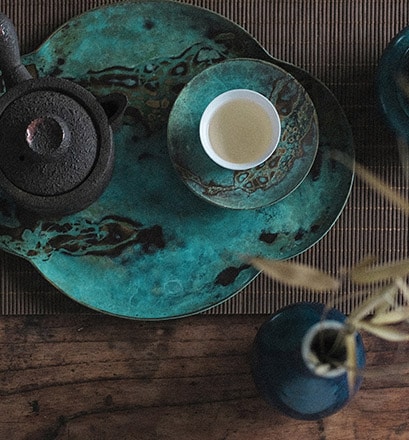 Enjoy a tai chi lesson and a nice cup of tea
Tai chi and the tea ceremony: two Chinese cultural staples. With a history that stretches back hundreds of years⁠—tai chi was created in the 12th century—these traditions both emphasise the importance of relaxation and well-being. Tai chi is specifically known to improve breathing, muscle tone and digestion. On the other hand, the tea ceremony transforms the brewing process into an elegant ritual. Certain preparations are believed to have healing properties in traditional Chinese medicine, and many people consume them to prevent or cure specific ailments.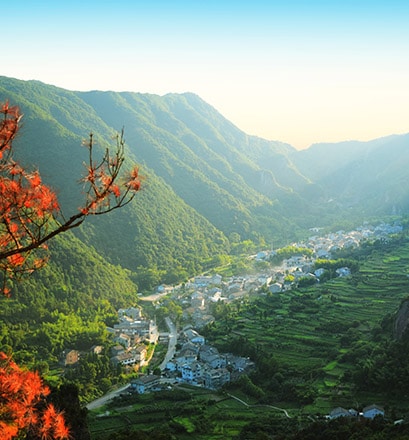 Escape to the country on the Nanxi River
150 kilometres long, the Nanxi River winds through a peaceful landscape, passing within 23 kilometres of Wenzhou. A boat trip is the ideal opportunity to admire the beautiful countryside along the banks of the river, shifting from fields to lush foliage. Several of the surrounding villages are also worth a stop, including Cangpo, founded several thousand years ago, and Yuantou, the perfect spot for a stroll. The Nanxi River runs near Mount Yandang, one of the ten most important mountains in China, known for its "Spiritual Peaks", "Spiritual Rocks" and "Great Dragon Pond Waterfall", a 190-metre-high fall.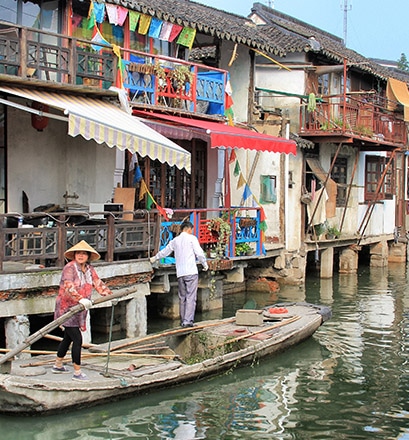 Spend a peaceful day in Zhujiajiao
Known as the "Pearl Stream" or the "Venice of China", Zhujiajiao is the best preserved of the four ancient towns of Shanghai. Located some 40 km from the megalopolis, this lakeside town, which is over 1,700 years old, offers visitors a welcome escape from the city, with canals bordered by willows and small houses decorated with red lanterns. Zhujiajiao is particularly renowned for its many bridges, which are made from marble, wood and stone. The best known is the Fangsheng Bridge, whose name means "release the fish". Erected in 1571, it is the longest, widest and tallest stone bridge in the town.
China - Essential guide
This practical guide is designed to help visitors to China learn some interesting information about their destination and avoid any faux pas.

Helpful tips
Dos. As a sign of respect, it is customary to greet the oldest person in the group with a handshake or a nod.
Don'ts. Chinese table manners can be a complicated business. For example, it is polite to try every dish and leave a small amount on your plate at the end of the meal to tell your host that you have had (more than!) enough to eat. If your meal generates any waste (e.g. bones or shells), you should not leave it on your plate, but instead put it in your napkin or the small bowl provided for this purpose. Finally, never leave your chopsticks standing up in a bowl of rice: this is a symbol of death.

Unique features
Taken from the top of the Oriental Pearl Tower in Shanghai, a 195-billion pixel panoramic photo was shared thousands of times on social media in 2019. This incredible image was shot at a resolution 2,000 times higher than a typical smartphone camera, allowing viewers to zoom the 230 metres down to street level. From passers-by checking their phones to diners in restaurants and tourists posing for photographs, it offers a fascinating snapshot of everyday life in the city. The final result was actually created by combining thousands of photos taken in bursts.

Essential phrases
Hello/good evening: Zǎoshang hǎo/xiàwǔ
Goodbye: Zàijiàn
Welcome: Huānyíng
Excuse me/please: Láojià
Thank you: Xièxiè
Yes/no: Shì/fǒu
How are you?: Nǐ hǎo ma?
Very well, thank you, and you?: Hěn hǎo, xièxiè nǐ, nǐ ne?
My name is…: Wǒ de míngzì shì...

Gastronomy
Covering a vast area, China is home to many regional specialities. However, Peking duck remains a traditional staple, dating back to the Ming dynasty of the 14th century. This dish is prepared according to a specific ritual and using a particular breed of duck—the Pekin—which is selected and slaughtered 24 to 48 hours before it is due to be served. It is then coated in honey and roasted. The service takes place in several stages, starting with the crispy skin, which is cut into thin strips of meat. It is combined with small pancakes and dipped in a thick brown sauce. The cooked meat is then served in a wok with vegetables. As an optional third stage, the duck carcass can be prepared as a soup.

Myths and legends
In use since 5,000 BC, jade is one of China's oldest materials. It is associated with many valuable qualities, including beauty, nobility, perfection, constancy, power and immortality. Jade was therefore a popular choice among the imperial families, particular with regard to funerary sceptres. Believed to be a link between the physical and spiritual worlds, it is the only material that combines the qualities of yin and yang, heaven and Earth, earning it the title of "Stone of Heaven".

Culture
Books. "You can't explain why you're here. It happened that you were on a train and this person mentioned a place called Lingshan, Soul Mountain." This novel intertwines the stories of two characters, "I" and "you", in an unspecified time period after the Cultural Revolution, immersing the reader in a China where traditions mix with legends and the most remote regions collide with urban areas. This escapist masterpiece is a study in introspection, earning its author, Gao Xingjian, the Nobel Prize in Literature.
Music. The traditional music of China varies greatly from region to region. However, in spite of its cultural significance, the music of the North-East is in danger of disappearing due to the repression of the Uyghur Muslim minority. The elimination of these unique art forms by the Chinese regime has been referred to as "cultural genocide". This endangered music, known as Muqam, is a series of melodies sung by one or more people, accompanied by traditional instruments. Before the conflict began in 2009, it was widely performed both on stage and in the street. Today, it is only played in the countries bordering this region, where the diaspora who fled internment in "political re-education camps" settled.
Film. In Journey Through China (2015), Yolande Moreau offers a master class in tragicomedy. Her character, Liliane, has her mundane life turned upside down when she receives the news that her son has been killed in an accident in China. Unable to repatriate the body of her child, who she has not seen for several years, she decides to go and find him. Liliane sets off on a journey into the heart of an unknown land, punctuated by many emotional encounters.
Numbers play an important role in Chinese culture, particularly the number 4. It is pronounced "Sì", which sounds similar to the word for "death". The number is therefore viewed as something of a bad omen. In the world of business, no one will ever sign a contract on the 4th, 14th or 24th of the month, and especially not in April. Telephone numbers including a 4 are offered at a lower rate and fourth-floor flats are often more affordable.