Antarctica aboard small, environmentally-friendly ships
Embark on an unforgettable Antarctic expedition and sail along the continent's incredible coasts, admire its unique wildlife — from king penguins to whales — and navigate through immaculate white scenery, where icebergs glimmer and shine in an explosion of blues, from turquoise to the darkest navy. Featuring a maximum of just 132 staterooms and suites, our purpose-built expedition ships provide an intimate atmosphere and luxury comfort. You will travel with an expert Expedition team onboard.
Which type of Antarctic Adventure would you like to experience?
Setting sail on an iconic Expedition aboard our Sisterships
With almost 20 years of experience in extreme regions, PONANT is a true Polar Specialist. Our Sisterships - Le Boréal, L'Austral, Le Lyrial or Le Soléal - will take you in search of ice floes and unique wildlife on the White Continent, guided by your expert Expedition team.
A legendary land with a history of attracting the great explorers, the White Continent continues to exert a strong fascination today.
or
Pushing boundaries of Exploration aboard Le Commandant Charcot
We invite you to experience a polar immersive odyssey to the farthest reaches of the poles aboard the latest addition to our fleet. Le Commandant Charcot— the World's Only Luxury Icebreaker powered by liquified natural gas, is the epitome of responsible and sustainable sailing while providing luxurious comfort.
Follow in the footsteps of the great polar adventurers. Witness Antarctica's untamed lands and pristine, immaculate landscapes.
Discover penguin colonies, marine wildlife and the most iconic panoramic views the White Continent has to offer on the Antarctic Peninsula, in the South Shetland Islands and along the shores of the subantarctic islands (South Georgia and the Falkland Islands).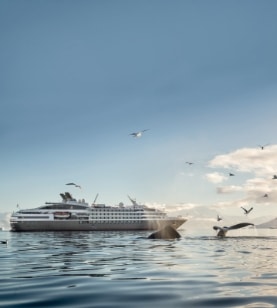 Explore the limits of the known world at times of year when these high latitudes are inaccessible to other ships, and get up close to a range of exceptional wildlife and scenery: emperor penguins and the ice shelves of the Weddell and Ross Seas, Marguerite Bay, and the mysterious islands of Charcot and Peter I.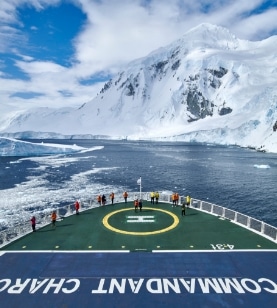 Our fleet is made up exclusively of modern small-sized ships with a maximum of 132 staterooms and suites on board, and are equipped with the very latest technologies.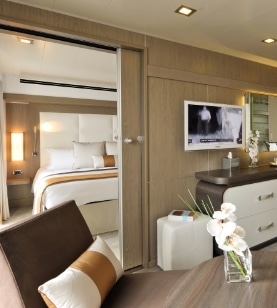 Enjoy an all-inclusive expedition in a superbly refined environment. Generously sized common spaces accomodate every guest, including two restaurants, a spa, lounges, a theatre, and an indoor pool. The Blue Lagoon outdoor pool and the brazier are heated by energy recovery.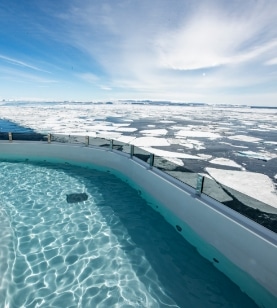 Our all-inclusive expeditions include Zodiac outings & shore excursions with expedition team, onboard lectures, parka, and boot rent, all meals & open bar, 24h room service, unlimited Wi-Fi, butler service for suites.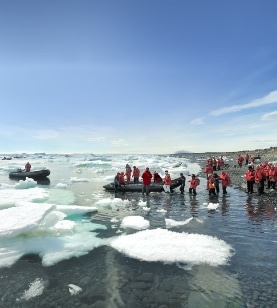 Your experienced Expedition Leaders supervise a team of 23 naturalist guides. They will lead activities such as:

Polar diving
Kayaking
Participative science
Zodiac outings
Showshoeing and Hiking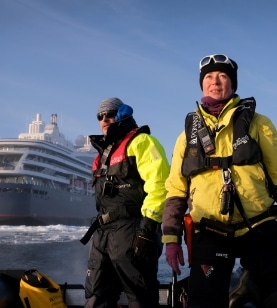 Savour the tastes of gourmet cuisine, created in partnership with Ducasse Conseil, chef Alain Ducasse's high-end catering company, at two all-inclusive restaurants on every ship. Sip your favorite cocktail at the bar and relax in various lounge areas.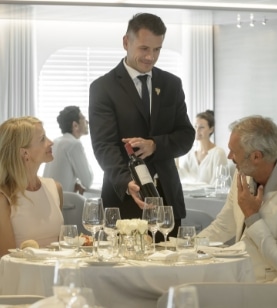 Safe and low impact polar navigation is our area of expertise, taking advantage of the latest innovations and even developing new, market-leading technologies and solutions Le Commandant Charcot is one of the most advanced polar vessels at sea today.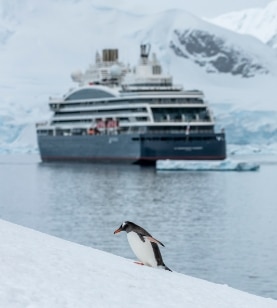 Responsible travel: Our ships' small capacity limits propulsive power and reduces the quantity of fuel and emissions. -100% of the fleet have the CLEANSHIP label, the highest Bureau Veritas classification. PONANT is also proud to be a member of IAATO & AECO.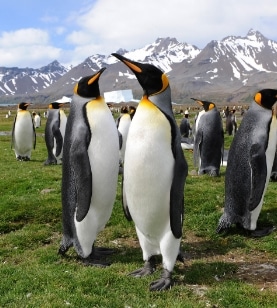 A unique concierge service
To assist you in all the steps related to your cruise, our Concierge Travel team is at your disposal at any time. Our experts help you plan and develop a tailor-made trip. Before embarking Le Commandant Charcot, rest assured our team has handled every detail.
MORE ►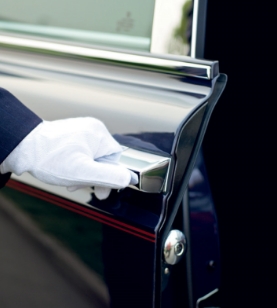 Your welcome offer
Up to €500 savings
per stateroom for your first cruise*
Ponant bonus
Save up to 30%
when you book your expeditions early

Book and sail with confidence

Did you know?
96% of our Guests would recommend PONANT to their friends and family.


Due to the size of the ship, there are many opportunities for landings ashore, and the Captain has the flexibility to make the best of oppotunities as they arise, so don't be surprised if there is a deviation. My favourite location was Neko Harbour and the Sea Ice, breath-takingly beautiful and accessible to all levels of ability and fitness. There will also be some surprises ashore. Those surprises are a team effort led by the Expedition Leader who has conducted reconnaissance, set up the landing points, marked out the safe routes, greeted you on arrival and provided a safety briefing. I will be travelling again to Antarctica and I will be travelling with PONANT… I suggest you do also.
David R.
Le Soléal – January 2022
See all reviews ►
The environment at the heart of our commitments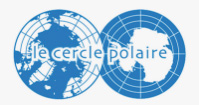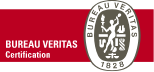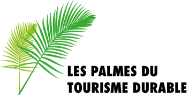 * €500 / £450 reduction per cabin based on double occupancy, with the code BWELCOM. Offer valid for any reservation of your first PONANT or PAUL GAUGUIN cruise. Non-retroactive offer, not applicable on Ocean Voyages, cannot be combined with other special offers and may be modified and/or cancelled without prior notice. This offer is also valid for use with your usual travel agency.